| | |
| --- | --- |
| Title: | Revolve |
| Date: | 2017 - 2020 |
| Dimensions: | Variable |
| Material: | Galvanised steel mesh and bespoke programmed lighting system |
| First exhibited: | Cube Theatre, Leicester 2017 |
| Funding: | Arts Council England |
'Revolve' is an installation constructed by repeating three simple drawing marks: A straight line, a curve, and a twist.
In this installation Esther Rolinson not only extended these drawing principles into three dimensions but also as a live building process. Using pre-prepared galvanised steel mesh sheets, she made the forms letting the shapes rove organically, one following on from the other.
A meditation in the form of installation art
'Revolve' is a meditation on the transition from thunderous noise to silence. A visualisation of a voice powerfully punctuating the silence. We might imagine it splits apart a leaden tomb of energy and releases all that is held inside. It fills every part of the space, ricocheting through the air, climbing layer upon layer until it is exhausted in the atmosphere. In essence, it is the pure sensation of the build-up and dissipation of energy.
An immersive light dynamic installation made by a hand built structure derived directly from Esther Rolinson's drawings, its bounding rhythmic forms trace a flowing pattern of energy as it bursts into the air and dissolves.
Looking up, we can see a large storm cloud of glowing steel mesh forms echoing the movement of hands, like the motion in dance or martial art.
The shapes oscillate between states, washed with intricately embedded lights, changing from steely solidity to a dark undergrowth of shadows and sublime translucent colours. The light patterns continuously evolve using computer programming extracted from Esther drawings' structural patterns.
I wanted to see if I could create an artwork that expanded in a live space with that same spontaneous quality of a hand drawing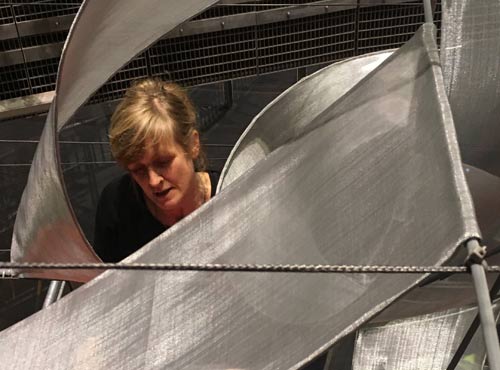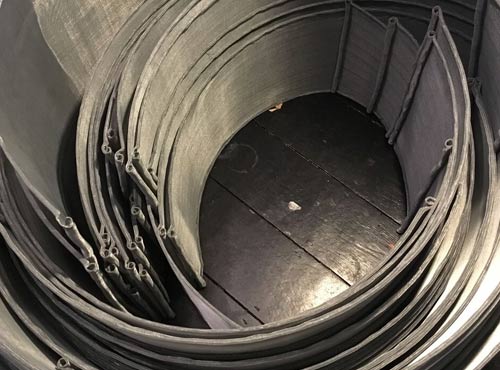 Revolve is programmed with Light Art behaviours derived from its contemporary drawing pattern.
'Revolve' has a sophisticated lighting system that Esther Rolinson designed with technologist Luke Woodbury. It is programmed with movements from actions embedded in her drawings.
This aspect of the artwork has been developed in collaboration with artist and programmer Sean Clark. A drawing capture software written by Sean Clark is being used to understand and identify structures inside the original drawings that are not immediately apparent.
'Revolve' is an interdisciplinary artwork that can be related to new features in media art but also to the legacy of the drawing practice in art history.
It reflects a curiosity about structures embedded in human actions and sensations. The work makes use of a custom digital drawing tool made to accurately capture my drawings mark-making processes and replay them in real-time. Analysis of the drawing data makes it possible to extract rhythms from the images to create light sequences and reveal a deeper connection between hand made and digital construction processes, which eventually is transferred to a sculptural artwork.
Curve Theatre Leicester commissioned 'Revolve' for their 'Inside Out' Festival, 2017. Esther Rolinson built the structure as a suspended form high up in the glazed foyer area, like a giant metallic storm cloud hovering over the space.