Title:
Flown
Date:
2015
Dimensions:
Variable
Material:
Hand-folded acrylic and programmed light
First exhibited:
Illuminations, Make It York 2015
Awards:
The Lumen Global Digital Arts Prize – Sculpture and 3D Award 2016
Art CHI (Computer and Human Interaction) Award – First Prize 2016
'Flown' is an expanding installation art of over a thousand hand-folded acrylic shapes created in a daily meditative practice by Esther Rolinson.
It is an artwork developed as a cloud of shattered forms rising like the spectre of broken objects as they leave their earthly debris behind. Reminiscent of water vapour caught in sunlight. Delicate colours pass through Flown's crystalline structure. We watch the light refracting through its cells as we have been lifted into the sky too. Like a storm quietly amassing, it reminds us of the disintegration of things and the absorption of all material once more into nature.
An immersive light art installation created through drawings with programmed light art
'Flown' was first commissioned for Illuminating York Light Festival and suspended in a public walkway in the city's heart. It was developed initially through a series of drawings where Esther Rolinson mapped out the nature of the work in a 'thinking through drawing' process.
'Flown' can be re-configured to fit many different spaces suspended in the air or spread across the floor. Sometimes it can be seen as an extendable sculpture, other times as an immersive installation. It has been shown in both galleries and public spaces.
It has been on display at: Illuminating York Light Festival 2015; Watermans Arts Centre 2017; Art CHI - Computer and Human Interaction Conference San Jose, 2016; Caerphilly Castle, Lumen Prize Tour 2017
In 'Flown' I felt instinctively that I wanted to take heavy broken forms and cast them up into the air, transforming them like an essence that has flown from them. The artwork itself is feather-light, but inside me it began crushed to the ground.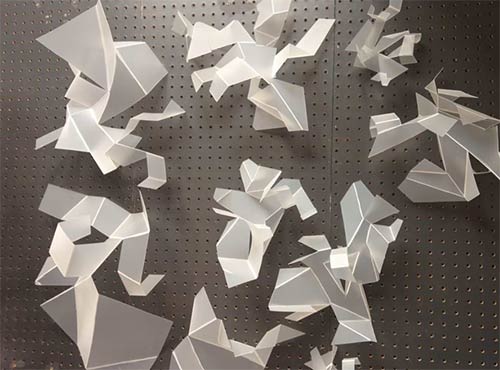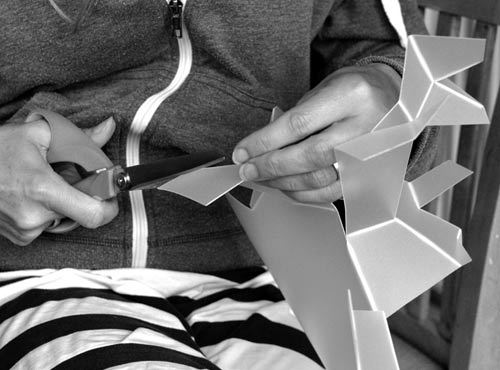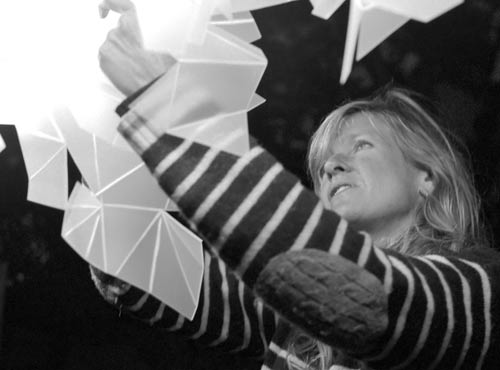 In 2016 'Flown' won the Lumen Global Digital Arts Prize Sculpture and 3D Award and the Art CHI Exhibition First Prize
'Flown' has subtle programming. Its changes were as waves of white and pale colours of light flow through the structure. It modifies every few seconds, or so small bursts of intense colour chase through.
The artwork can stand alone as a programmed structure with its own independent behaviours. It can also be connected to its environment by photon sensors that measure humidity, light and temperature. This information is then used to influence the changes of colour. The programming and interactive aspects of Flown have been developed with Dr Sean Clark.
When I was building 'Flown', I wanted to know each part of it like the back of my hand and test out my ability to make on a large scale. To be a 'thoughtless' human-machine.